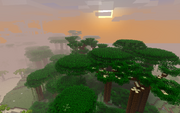 Rainforests
Edit
The rainforests are home to the Ashen, a tribal race, they worship the volcano gods (Stone heads) they will attack on sight unless you are wearing a mask of theirs.
The rainforest is a great place for treehouses, due to the heights of the trees and the general amount of wood, four jungle tree saplings in a 2x2 when grown turns into a rather large jungle tree. The rainforest however is also good cover for mobs so when night time arrives beware of the creeper in the shadows and the skeleton which just won't burn during daylight hours due to the tall foliage coverings.
Ad blocker interference detected!
Wikia is a free-to-use site that makes money from advertising. We have a modified experience for viewers using ad blockers

Wikia is not accessible if you've made further modifications. Remove the custom ad blocker rule(s) and the page will load as expected.