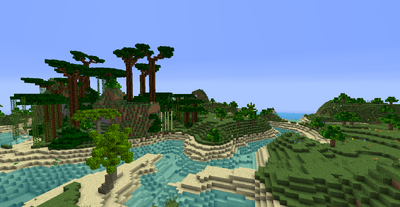 The Tropical Realm is a separate world (similar to the nether and the end) from the original Overworld and contains a lot of new content including pineapples, bamboo, and 3 new ores. To get there, you have to enjoy the sunset sitting in a beach chair drinking a Pina Colada . You will spawn in a pool of bubbling water. When you swim up, you will be in the Tropical Realm! To get back to the Overworld, simply drink another Pina Colada and jump into the pool.
A perfect place to retire and feel like you are in the Caribbeans. Don't forget the sunblock.
An additional method of travelling to and from the Tropical Realm is using single-player commands.
/tropics